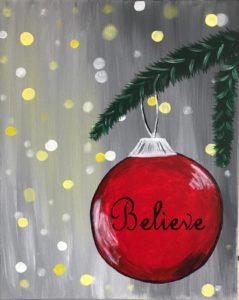 THIS EVENT HAS BEEN CANCELLED….Hi everyone, Kait has come down sick with the flu the last 24hrs (this is her husband) , she's in pretty bad shape. Fever over 102 and hasn't kept food down in at least a day. We are offering a full refund to those who purchased online as well as $10 off your next kit purchase as an apology from us to anyone who reserved a seat (cash or online). We have an event tomorrow in Rock Springs at 6:00PM as well, if she's feeling well enough to do that one she will teach both paintings at that time if you're interested.We're so sorry, but I had to tell her to stop even trying to get through today. She's just too sick.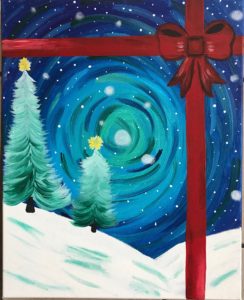 Saturday, December 8th from 6:00PM to 8:30PM @ The Park Hotel 
We're offering this beautiful "Christmas Bow" painting on Saturday December  8th from 6:00PM – 8:30PM at The Park Hotel Banquet Hall! We're also offering our LED "Let It Snow!" painting as a second option at this event! Your $35 ticket includes: 2.5 hours of painting • A stretched canvas to take home • Your own easel to work on • Paint, brushes and aprons • Help from the artist so you can go home loving your new piece!• Great Food & Drink Options! • Great Music!
| Ticket Type | Price | Qty. | Cart |
| --- | --- | --- | --- |
| Paint & Create "Christmas Bow" Rock Springs | $35 | | |
Tickets Remaining:25