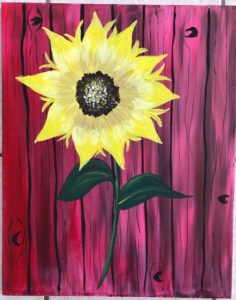 Friday, March 23rd 6:00PM- 8:30PM @ Park Hotel Banquet Hall in Rock Springs
Come Paint With Us! We're offering this beautiful painting on Friday, March 23rd 2018 from 6:00PM – 8:30PM at The Park Banquet Hall in Rock Springs! Your $35 ticket includes: 2.5 hours of painting • A stretched canvas to take home • Your own easel to work on • Paint, brushes and aprons • Help from the artist so you can go home loving your new piece!• Great Food Options! • Great Music!
| Ticket Type | Price | Qty. | Cart |
| --- | --- | --- | --- |
| Sunflower Rock Springs | $35 | | |
  Tickets Remaining:29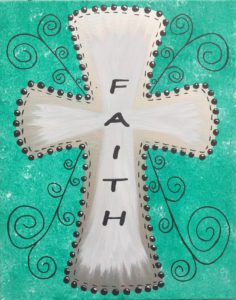 Saturday, March 24th @ Santa Fe in Rock Springs – 1:00PM -3:30PM
Come paint this fun cross painting with us on Saturday, March 24th @ Santa Fe in Rock Springs! We have stencils for the cross and lettering, and you can choose your own colors! Proceeds will go towards a fundraising effort to help Joel Chambers in his fight against Lyme Disease, paying for medical treatment at premier Lyme Treatment Facility (Envita Clinic in Scottsdale, Arizona),Travel, and room and board for family and convalescence (2-4 months). Tickets are $40 , you can contact Mandy Sewell for tickets @ 307-371-1321.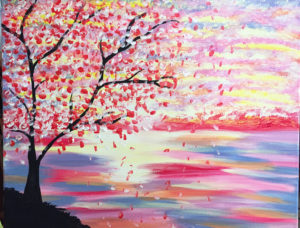 Saturday, March 24th from 6:00pm – 8:30pm @ Santa Fe in Rock Springs
Saturday, March 24th from 6:00pm – 8:30pm join us @ Santa Fe in Rock Springs for this fundraising painting for the local Catholic youth group! Tickets are $40! This bright beautiful sunset piece will look stunning on your wall! Your $40 ticket includes: 2.5 hours of painting • 16 x 20 stretched canvas to take home • Your own easel to work on • Paint, brushes and aprons • Help from the artist so you can go home loving your new piece!• Great Music!   For tickets please contact Amanda @ 505-410-1498